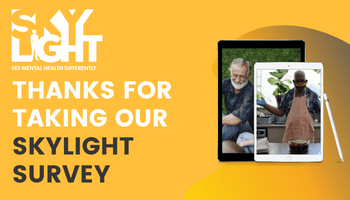 We are ready to action your responses
2021 was a year of reflection for us. We are still so very much inspired by the resilience of the human spirit and the potential in all of us to live well and are determined to support you as best as we can. However, we realised that – particularly in the past few years – times have changed. Communities have changed. People have changed.

So we had to be honest here. What we thought we knew about you and how you liked to work with us may have changed!
Skylight's mission has always been to increase opportunities to achieve good mental health, to promote acceptance of mental illness in the community, and provide quality services for people with mental illness, their families, and friends. We would like you to choose us and provide you with the best possible experience.

For us to be able to do that, we had to understand who you really are. What is it that you were looking for in a mental health support organization such as Skylight? So we brought you the opportunity to share with us what you really need and care about to help us design your future with Skylight. You did this! Thank you for answering our survey.
Now we have the information. We have been able to identify great opportunities to help create better experiences for everyone that uses our services. We would like to thank everyone that took the time to give us their feedback. We are now planning a number of new actions that will be implemented across Skylight to improve your experience even more.