Angelique's Story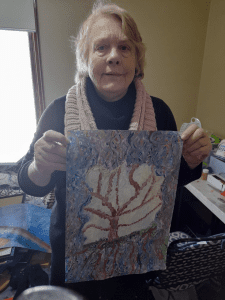 Angelique lives at home with her husband Robert in the southern suburbs of Adelaide. She has a cat, and enjoys painting, long drives, and nature. Angelique has overcome and manages physical, emotional and psychological struggles in life, but draws meaning and hope from her strong spiritual faith.
Before coming to Skylight services, Angelique felt like things were a struggle – she lacked motivation, felt isolated, and relied mostly on her husband for a lot of support. However, she feels she has benefited from the services she receives at Skylight.
"It was all such a struggle. Now it's like I'm on easy street, the difference is incredible. I'm very happy about it all."
Angelique began her journey with Skylight three years ago, when she started attending Activity Groups. Angelique also received support from Skylight's NDIS Transition Team to apply to the NDIS. Since gaining access to the scheme in 2020, she has continued to work with her transition worker, Debra, who has been her Support Coordinator and Psychosocial Recovery Coach. Through Debra, Angelique been able to connect to the services and supports she needs, and now has space to focus on things she enjoys.
"She understands me and is there for me. She's helped how to set things up and found ways to make my NDIS plan work well for me…Whenever I get confused about something Debra clears it up for me and helps me understand."
Angelique still attends Skylight Activity Groups today, and says these groups give her the opportunity to take her mind off things. In particular, the Art Group has been an outlet for Angelique, and has helped her to grow in confidence. She now hopes to sell her art one day.
"All of the services I have received have done me so much good…Skylight staff are very caring people. Thank you very much."